Join us December. 3-5, 2019 at the TCU place in Saskatoon, SK for the Farm Forum Event, your opportunity to network with progressive farmers, ag professionals and academics to learn how the latest innovation and research connects with on-farm operations.
Organized and presented by Glacier FarmMedia's agricultural event experts, the Farm Forum Event will include presentations, keynote speakers, breakout sessions and, new this year, Agronomy Day, all programmed to ensure you Learn & Grow as an ag service provider or a farm operator.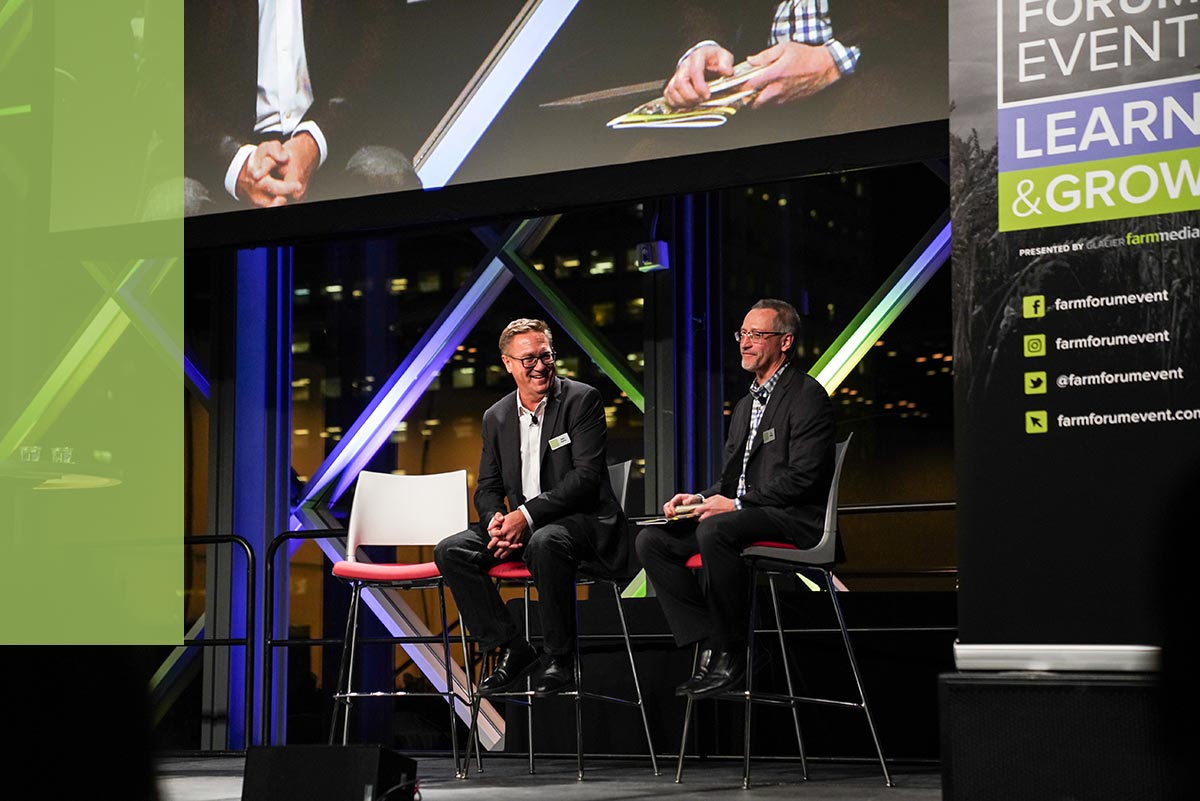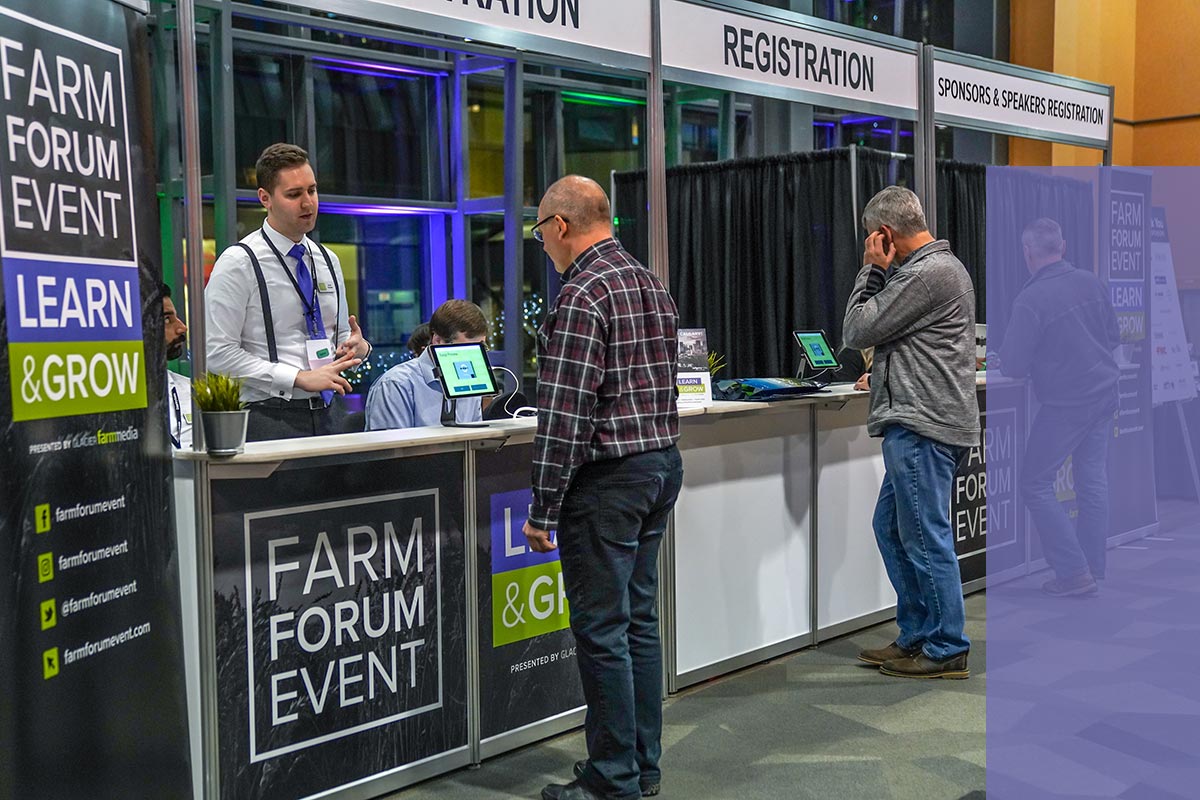 Registration for the Farm Forum Event is now open. Register now to take advantage of Early Bird prices and save up to $248 off the full conference value.
Keynote
Breakout
Networking
Breakout
Lunch and Keynote
Breakout
Networking
Keynote
Breakout
Networking
Dinner Reception and a Fireside Chat
Entertainment
Table Talks
Table Talks and Breakfast
Read More
Table hosts and topics to be released later this year
Keynote

Centennial Hall Lower Level
Choosing a Decision Support System
Read More
Three financial and management advisers outline systematic approaches available to help farmers make better decisions for their operation. This panel will be moderated by Tom Button, Editor of Country Guide.
Heather Broughton, CTEAM principal
CTEAM is an education based program designed specifically for farmers that uses a more academic approach with a broad curriculum that can help you look at your business in new ways that we, as farmers, may not encounter in our daily agricultural lives. Understand how learning about such concepts such as value and financial ratios, along with focusing on individual aspects of their own farm management, can help farmers better understand their overall opportunities and help identify management priorities and assess its overall performance.  All while interacting with a group of like minded farmers.
Terry Betker, president, Backswath Management
Danny Klinefelter, renowned Texas A&M University professor and extension economist points to four states of knowledge that exist:
What you know,
What you know you don't know,
What you don't know you don't know, and
What you think you know that just isn't so.
It's true that however well a business is working, someone, somewhere has a better idea or way of doing things. Jack Welch, former chairperson and CEO of General Electric, said "The only truly sustainable competitive advantage is the ability to learn and adapt faster that your competition." Applying the age-old adage that a rising tide raises all boats, peer groups can be a resource that aggregates the "what you know" from a group of peers and then proceeds to tap into the groups' collective accumulation of knowledge and experiences – drilling down into the three "don't know" states of knowledge. In his presentation, Terry Betker, P.Ag., will use his consulting experience to provide insight into peer groups, focusing on how they can be used effectively to support strategy and decision making for progressive farm businesses.
Carol Kruck, Agriculture Industry Group Leader, BDO
Dare to compare your operations with BDO's accurate and reliable financial benchmarks. Identify key priorities for business planning. Standardized Financial reporting allows you to accurately compare to producers in your area, or across the country.
Networking
Trade Show and Networking
Breakout
Growing the Future
Managing Inputs for Your Most Important Resource
Read More
As farm business owners we tend to think in dollars and cents, revenue and expenses, inputs and outputs. Unfortunately, we often forget about the most important input - our self. Using self awareness and a growth mindset as the blueprint, Katelyn will discuss techniques to navigate through the day to day stresses of farming and personal life. Based on wisdom from Don Migual Riuz "The Mastery of Self" Katelyn will discuss how farmers can be their authentic self, regardless of what's happening around them (aka: the weather, international trade and Twitter fights).

Blair Nelson Room Upper Level
Management
Leadership: Building stronger teams on the farm and in the family
Read More
Leading your team to their full potential through effective communication
Precision and digital farming
Glacier FarmMedia Discovery Farm Yield Results A Panel Discussion with Horsch, Morris, Salford, Nutrien, Alpine, CLAAS and AGI
Read More
Moderated by Blake Weiseth: This interactive session will see each of the Glacier FarmMedia Discovery Farm Industry Partners sharing a brief expert overview of their product or technology that was used in this year's field-scale demonstration trials. Yield results and other key observations from the trials will also be shared.
Growing better crops
Amping Up Your Yields Using Plant Hormones
Read More
All of the five major plant hormones can impact your yield and the grower's bottom line. Learn how these hormones promote crop health and maintain the genetic potential of the plant from seeding to harvest.
Growing better crops
Seed Terminator: Harvest weed seed control simplified
Read More
A farmer's perspective on how a non chemical weed control system at harvest time could help delay the onset of herbicide resistance on the Canadian prairies.
Soil health and nutrition
Soil Matters
Read More
For the first time in history, we have the capacity to produce food in a sustainable way. Yet, too many farmers and their influencers cling to old ways and values. Soil productivity is slipping away. This has a consequence for everyone – now, and long into the future.
Networking
Trade Show and Networking
Lunch and Keynote

Centennial Hall Lower Level
Black Swans – Friend or Foe in Agricultural Systems?
Read More
"Black swan events", as described by author Nassim Nicholas Taleb in his 2007 book The Black Swan: The Impact of the Highly Improbable, are extreme, impactful, rare and unpredictable outlier events. They "shock" existing systems with unexpected and novel outcomes which disrupt, challenge, damage and even overwhelm otherwise robust systems. But such events also provide opportunities, new alignments and innovative relationships for existing systems. While relatively rare, for better or worse, "black swan events" seldom leave existing systems intact. So fasten your seat belts and join us for this session which explores:
where and when "black swan events" have surfaced in Canadian agriculture and agri-food;
whether we are currently witnessing "black swan events" in the areas of agricultural innovation, food consumption patterns, international trade disruptions and global climate change effects;
how "resilient" the Canadian agriculture and agri-food system might be to absorb shocks when "black swan events" occur and how able it is "reboot" when necessary;
whether "black swan events" might actually contribute to Canada's agricultural growth potential by stimulating innovation that change practices directly at the producer level to optimize growth and enhance natural capital (examples include new genetics, field applications, product branding and climate change mitigation)
Keynote

Centennial Hall Lower Level
Managing Grain Storage Risk in a Changing Climate
Read More
Challenging growing seasons and poor weather during harvest result in complex, and sometimes risky, harvest management decisions. Should grain be harvested earlier but tough? How much drying can be reasonably expected with in-bin drying systems? What is the cost of in-bin and heated air drying? How do I decide if it's worth the risk to leave the crop in the field for another week? This presentation will provide producers with fundamental information about grain storage and drying to help them make more informed harvest management decisions.

Centennial Hall Lower Level
Weather Impact on the 2020 Markets
Read More
This presentation will outline the current global weather situation and the possible impact of the weather on the grain and oilseed markets. The focus will include an update on the South American and Australian crops, winter crops in the northern hemisphere and the Western Canadian outlook.

Centennial Hall Lower Level
Grain Market Outlook In A Tangled Trading World
Read More
Ag markets are typically driven by weather…and this year is no different. But the emergence of conflict in trade policy is altering the grain flow matrix for oilseed, grain and pulse markets. Mike will explore the changing grain market dynamics in this new era.

Centennial Hall Lower Level
If I Can…
Read More
The limitations we face in life are often the ones we place on ourselves. Chris Koch's inspirational "If I Can" presentation is about making the most out of life, with a focus on appreciating what we have instead of worrying about what we don't. Despite being born without arms and legs, Koch didn't let limitations and obstacles stand in the way of achieving his goals and dreams. He still grew up working on his family farm, and has spent his adult life snowboarding, running marathons, and travelling independently. If a guy without arms and legs can do all this, he says, we are all capable of some pretty amazing things. Sharing experiences and funny anecdotes from his life, Koch leaves his audiences motivated and empowered to build the life they dream of.
Table Talks
Keynote
Networking
Breakout
Lunch and Keynote
Breakout
Networking
Breakout
Innovation Previews
Networking
Entertainment
Stay and Play.
Be right in the heart of the action in beautiful Saskatoon, SK.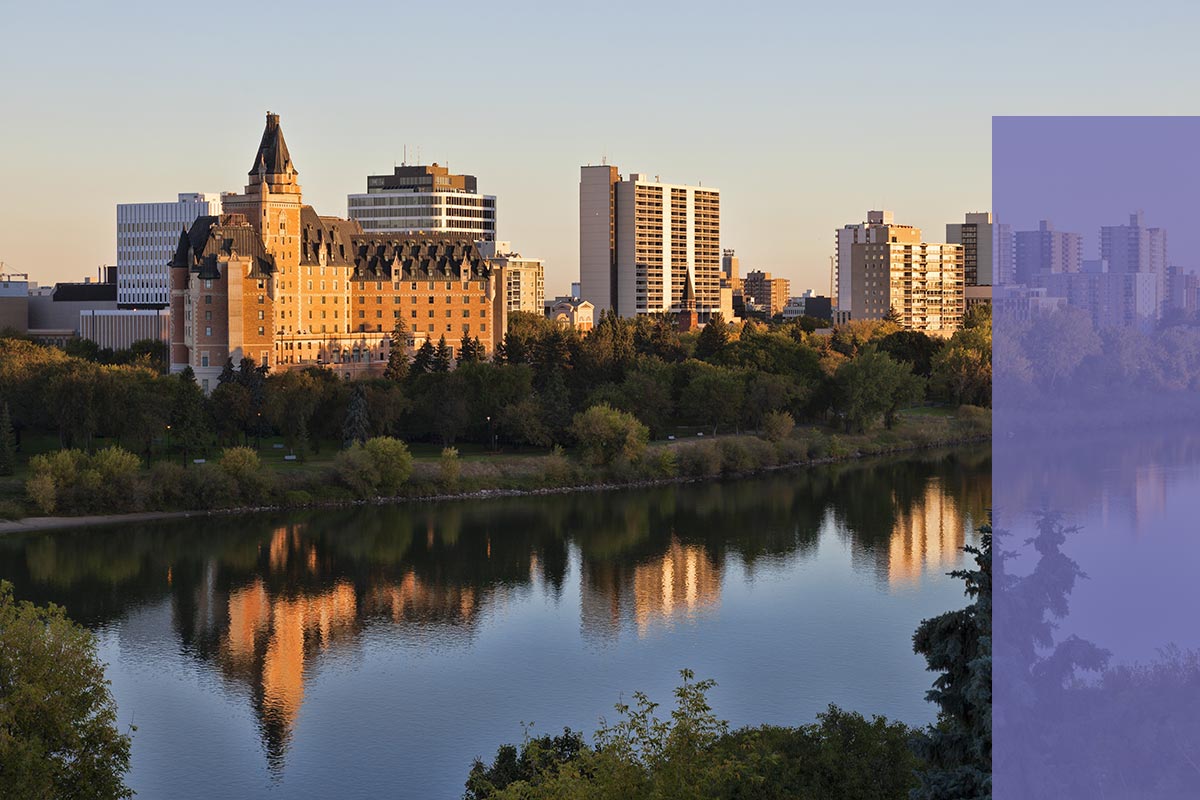 Hilton Garden Inn Downtown Saskatoon
The Farm Forum Event is pleased to be working with the Hilton Garden Inn Downtown Saskatoon to offer a special rate to attendees.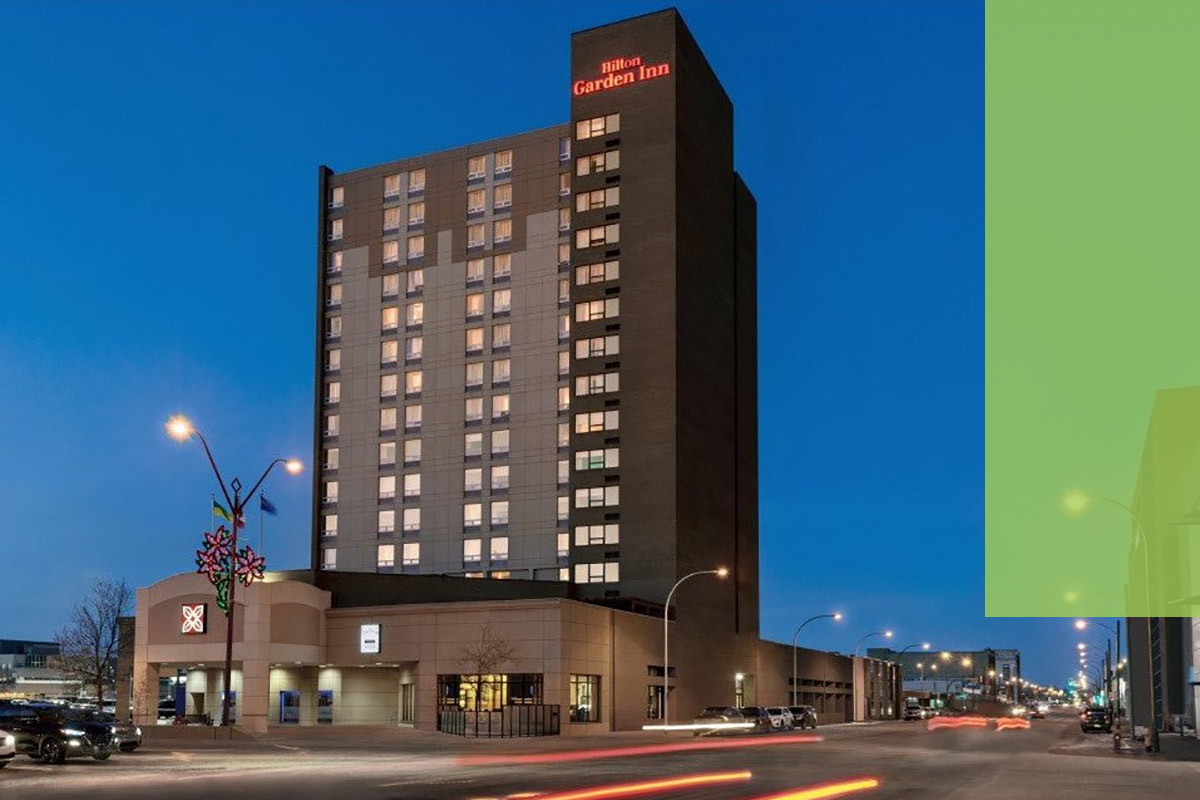 Sheraton Cavalier Saskatoon Hotel
The Sheraton Cavalier Saskatoon Hotel is ideally situated in downtown and overlooks the stunning South Saskatchewan River. Book your room now to receive a special room rate for the Farm Forum Event.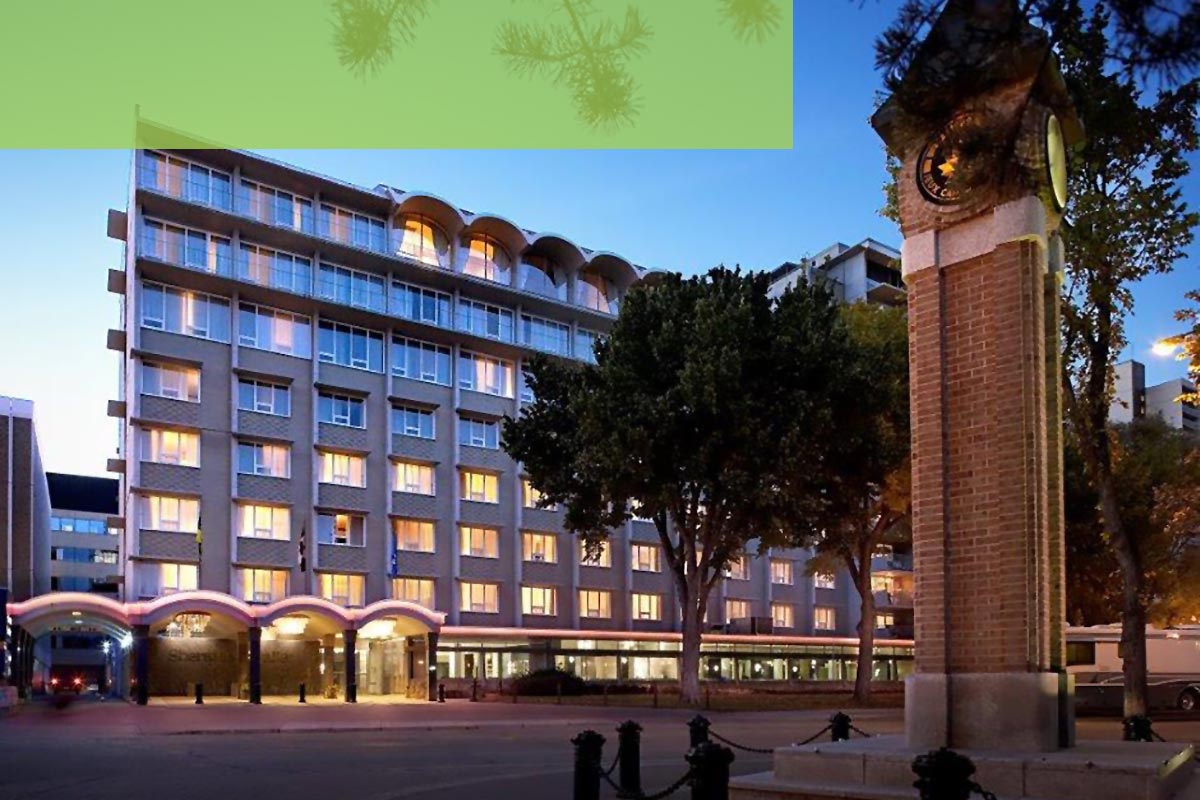 SUBSCRIBE FOR UPDATES
Be the first to hear about the latest news by subscribing to the Farm Forum Event Insider e-newsletter!